Since making my bpd orchid Twitter (tweet me @bpdorchid !), I've had a tremendous amount of support and enjoyment from the warm feeling of solidarity with others. It has been a joy to connect with others who have experience of the things I have been through and am going through. It can feel so frighteningly lonely to have bpd that it's a pleasure every time I relate to something someone has written on Twitter.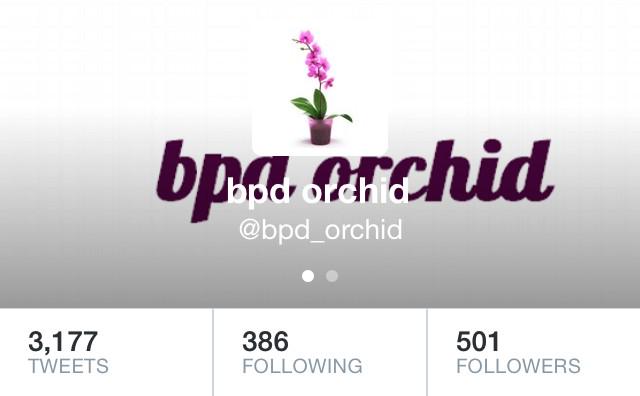 I follow people who tweet about Borderline Personality Disorder, and those who tweet about Bipolar and other mental health problems, and people who are 'recovery warriors', or experts or just kind-hearted people who are in the Twitter community wanting to reach out.
I feel over-awed to have almost 520 followers now. I didn't think that in my wildest dreams I would have had that many followers!
Thank you to all follow me. I hope you have felt solidarity and the warmth of that feeling of 'I am not alone'.
Twitter has helped me in spiky moments of panic and emotional isolation: when I have wanted to cry out 'help' and scream into the midst for someone who understands.
It has been on Twitter where I have found a community of people who know exactly how I feel: they trust that I am not 'dramatic', or just making things up. In short, they 'get it'. I am thankful to the makers of Twitter and to the lively, kind bunch of people who frequent Twitter.
It would be wonderful if even more people suffering with the confusion or the loneliness that can come with bpd had looked at my page and found some comfort.
I hope for 2015 that my Twitter can grow and bloom with me and with the community of lovely others out there.
Thank you everyone.